<![if !vml]>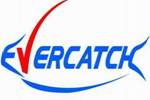 <![endif]>
Name
EVERCATCH FISHING TACKLE CO.,LTD
威海瀚铭体育用品有限公司
Company Type
Manufacturer
Products
Lures
Brand
EVERCATCH
Contact
Tel: 0631-5783277
Fax: 0631-5783266
E-mail: ella@evercatch.com
Web: www.evercatch.com
Add.:
No.85 Shenyang mid-road,weihai city, china
山东省威海市沈阳中路85号
Business License Number
371002228030324
Attendance Times of CF/CGC
6 times for CF
Booth No.
A043 (CF 2014)
Company Profile:
Evercatch Fishing Tackle Co., Ltd is a professional manufacturer and exporter for artificail lures. Established in 2005,the products include full range of soft lures, wobblers and lead fish.
The factory is located in the seashore city---Weihai, Shandong province with a beautiful landscape and a convenient transportation. On base of the most advanced technology, facilities and rich producing experience, Evercatch has a world wide cooperation in business and technical exchange. The market covers most countries of Europe, North America and Australia. Meanwhile, the company has been becoming more and more stronger and professional by the support from a French design company and an Australian professional lure tester.
<![if !vml]>
<![endif]>
Name:Wobber
Company: Weihai Evercatch fishing tackle Co.,Ltd.
Type: Lure
Brand: Evercatch
Model: HMCE95, HMCE115
Material: Imported Toray ABS
Price: 1.5 USD
Origin: China
In Stock/Not In Stock: Not In Stock
Time to Market Sales:
Minimum Order Quantity: 300pcs each color
Detailed Description:
ITEM

LENGTH

WEIGHT

CLASS

HOOK SIZE

HMCE95

95mm

4-4/5"

9.5g

1/3 oz

floating

8#

HMCE115

115mm

4-1/2"

17g

5/8oz

floating

6#
l With a unique mouth designed to work just below the surface, this lure emits a small splash and dives like a frightened baitfish trying to escape larger predators.
l Large 3D eyes provide an attack point for predatory game fish
l Stronger & Sharper treble hooks.