Name
Fuji Product Co., Ltd.
Company Type
Manufacturer
Products
Fishing Line
Brand
TSURI-MEIJIN¡¡Quiver
Contact
Tel: £«£¸£±£­£²£·£·£­£²£²£­£¶£¹£±£¶
Fax: £«£¸£±£­£²£·£·£­£´£·£­£µ£µ£¶£³
E-mail: n-nakajima@noguchisenshoku.com
Web: http://www.fujiproducts.jp
Add.:
3-3 Koume-cho Kiryu-shi Gunma JAPAN 376-0004
1809#Room, 1st Door, Building D, Fujia Xintiandi, Dailian Cit, CHINA, 116021
Booth No.
C302 (China Fish 2014)
Company Profile:
Fuji Products Co.,Ltd. Was selected as a prize for two consecutive years at the 20th and 21th China Fish Exhibition.
Fuji Products was established recently in order to sell TSURI-MEIJIN and Quiver
Though It is still a young company, the parent company has more than 100 years history with Japanese traditional dyeing technique and modern manufacture of man-made fiber such as nylon,dyneema and Fluorocarbon.
TSURI-MEIJIN and Quiver are the finest fishing lines,created from¡¡¡°Tradition and Innovation¡±
We look forward to your continued business in the future
<![if !vml]>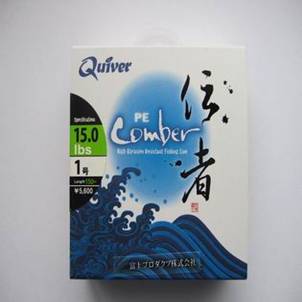 <![endif]>
¡¡
Name£ºDenjya
Company: Fuji Product Co.,Ltd.
Type: Fishing Line
Brand: TSURI-MEIJIN Quiver
Model:
Material: Nylon PE
Price:
Origin: JAPAN
In Stock/Not In Stock: In Stock
Time to Market Sales:
Minimum Order Quantity: 1size 120pcs
Detailed Description:
I have also contracted OEM production of Nylon and PE.
Nylon: Sale of raw thread or sale by coating processing is also possible.
PE: Dyeing by various patterns.
Nylon TSURI-MEIJIN PE Quiver