<![if !vml]>

<![endif]>
Name
Poyang Black Kingkong fishing Tackle Co.,LTD
鄱阳县黑金刚钓具有限责任公司
Company Type
Manufacturer
Products
Hooks
Brand
BKK
Contact
Tel: 0793-6283345
Fax: 0793-6281456
E-mail: huangjie@bkk.hk
Web: www.bkk.hk
Add.: 1#,xijing 2nd Road, Poyang county, Jiangxi province ,china
中国江西鄱阳县西径二路一号
Business License Number
361128210004234
Attendance Times of CF/CGC
9 times
Booth No.
B090 (CF 2014)
Company Profile:
Nowadays, we've invested tens of millions in importing equipment from Japan, and sent people to learn know-how from Japan ,every and each hook we make contains expertise of 200 craftsmen completely concentrated with 100% excellent workmanship. Recently our products are being exported back to Japan, the land marking excellence of making fishing hardware. No matter how much effort we invested ;no matter how many materials we experimented, what won't change is the best quality that black kingkong perusing. We believe that this marks respect and honor to all fishermen who aspire to freedom and happiness in fishing, and that this marks the wonderful dream that black king kong is after as a hundred-year-old enterprise.
<![if !vml]>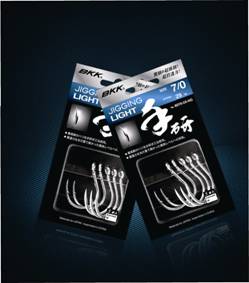 <![endif]>
Name:BKK Jigging hook
Company: Poyang black king kong Fishing Tackle co.,ltd
Type: HOOKS
Brand: BKK
Model: 8070-3X-HG
Material: high carbon steel imported from Japan
Price: $4.66 USD/ per packet (wholesale price)
Origin: China
In Stock/Not In Stock: in Stock
Time to Market Sales: Oct., 2013
Minimum Order Quantity: 500 packets
Detailed Description:
BKK 8070-3 X-HG is a fine wire jigging hooks which is suitable for any sea water in the world, the hook type series coverage for the fish species is quite wide.
Design goal: emphasis on ultra high efficiency of piercing fish (early and fast sticking the fish), as well as ultra high penetration. It is also with high strength and high anti-rust protection.
Technology: Adopting the BKK - 81 WV materials, with excellent heating treatment technology, it made 8070 jigging hook with super tension and elasticity. 8070 jigging hook is made of BKK proud hand-ground hook-point technology. Meanwhile, the welding seamless hook-ring and the latest antirust technology are applied in the jigging hook