<![if !vml]>
<![endif]>
Name
Walkingliving
维卡莱林户外用品有限公司
Company Type
Manufacturer
Products
Fishing Tackle Products
Brand
WALKING LIVING
Contact:
Tel: 0755-82973875
Fax: 0755-82973936
E-mail: w.living@walkingliving.com
Add. Haidian District, Beijing Qinghe ZhuHouseRoad 16, Building 2, Layer 2
北京市海淀区清河朱房路16号院2号楼2层
Business License Number
110108012765052
Attendance Times of CF/CGC
6 times altogether
Booth No.: C397 (China Fish 2013)
<![if !vml]>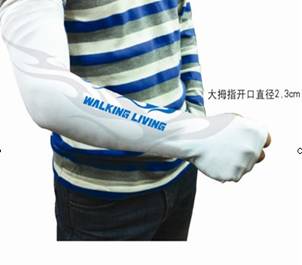 <![endif]>
Name:Ice silk sleeves
Company: BEIJING WALKING LIVING OUTDOORS PRODUCTS CO.,LTD.
Type: Outdoor Equipment
Brand: WALKING LIVING
Model: WL-P0030A
Material: 92% nylon 8% spandex, 50 + grade sunscreen
Price: RMB 49 YUAN
Origin: CHINA
In Stock/Not In Stock: In Stock
Time to Market Sales: 2013-2-15
Minimum Order Quantity: 1000 Pair
Detailed Description:
In the height of summer outdoor sports, such as choosing dress shirt, you need to wear both UV resistant and breathable cool ice silk sleeves to prevent sun exposure, skin burns.