China Fish 2010 Report
As one of the three largest trade tackle shows in the world and a leading international fishing tackle show, China Fish has been successfully operated for 20 years.
20 years ago, when initiated, China Fish had only 20 exhibitors within 2,000 square meters exhibition hall with no international buyers.
As two decades went by, in 2010, at her 20th birthday, China Fish has come into prosperity with 509 exhibitors, 2157 buyers from 989 companies and 106 countries within 35,000 square meters exhibition hall, approaching the climax of the past 20 years.
As an old saying goes, Rome was not built in a day. The success of China Fish stems from the development of the Chinese fishing tackle industry, the ever-lasting support both from the exhibitors and the visitors, as well as the customer-oriented collaborative effort of the organizers, as President Li Jiang said at China Fish 20 years' anniversary celebration banquet.
No doubt, 20 years' development has made China Fish into the top fishing tackle show. Even under the increasingly intensifying global financial crisis, we can still grasp some positive changes that China Fish has encountered, and brought to the fishing tackle industry.
I "Change has come to China Fish"—— Striking growth of China Fish within 20 years
In the interview with Mr. Li Jiang, president of China Fish, he summarized the changes in the twenty years as followed:
More and more overseas exhibitors at China Fish
As part of fishing accessories produced by China can not reach the quality standard, when buyers place orders they usually demand to replace some accessories with those made by the famous companies, in that case, huge market demands stimulate the increase of overseas exhibitors. China Fish now is trying to establish itself as a gateway for those international companies to enter China domestic market.
High quality products exhibiting at China Fish
The products quality at the show is thriving within 20 years' accumulation. The processing ability and technique level of Chinese enterprises are improving, ten years ago only low-end products could be seen at China Fish, but now more mid-range even high-end products are exhibited at the show.
Many good design and decoration booths at China Fish
The booth decoration becomes more modern than before, since now the enterprises are taken over by the second generation who are with new management concepts.
| | | |
| --- | --- | --- |
| <![if !vml]><![endif]> | <![if !vml]><![endif]> | <![if !vml]><![endif]> |
| <![if !vml]><![endif]> | <![if !vml]><![endif]> | <![if !vml]><![endif]> |
IPR on-site office at China Fish
China Fish had IPR office at China Fish show in 2004 which is 2 years earlier than the Exhibition IPR law issued in China. Only China Fish, among all fishing tackle shows in China, got RMB50,000 prize awarded by Chinese government for its contribution to IPR.
More investments in product's innovation
10 or 20 years ago very few exhibitors had their own copyright products. However, Chinese entrepreneurs would like to spend more time and funding on innovation, which proves that Chinese companies are aware of the increasingly importance of The Best Product Showcase organized by China Fish.
Start to build brands in China and in the world
After 20 years' development, majority of China mainland exhibitors are considering building up their own brands and actually there are already some Chinese brands in the market, e.g. "Guangwei" (Guangwei Group), "Old Ghost"(Hubei Old Ghost Group), "Rainbow" (Ningbo Zhongyuan Fishing Gear Co., Ltd.),
In addition, exhibitors at China Fish now is not merely for orders but to promote their own brands or to meet some customers whereas orders were their main concerns ten years ago.
Both exhibitors and visitors put forward higher requirement on China Fish
As for the exhibitors' attitude, they become more and more critical about the show, such as the venue, the hotel service and other things. That maybe because now they often visit EFTTEX and ICAST, so they can make comparison. In their opinions, China Fish as an international show, it should be at the same level as other international shows in every aspect, so it's a real challenge for China Fish organizer.
Praises and Commendations
The contribution of China Fish to Chinese fishing tackle industry has won tremendous praises and commendations from the representatives in the industry.
Mr. Dieter Willenbruch from Fishman's Partner said:"Mr. Li Jiang did a very good job with this show – and no doubt – help the whole Chinese fishing tackle industry considerably with the China Fish showcase to all overseas fishing tackle entrepreneurs."
"Changes are constantly going on. The winners are not the ones who follow the changes but show head them. This is what Mr. Li Jiang has successfully down in the past."
Chen Liang, President of Guangwei Group / Chairman of China Fishing Tackle Association said: "China Fish has been the gateway to the newest international market information, the industry developing trends and orders placed by overseas companies. Moreover, it not only provides a developing chance for many hand workshops to become famous brands in China, but also an opportunity for numerous international famous brands to enter Chinese market."
II Mounting figures of exhibitors and international trader hit a historical high in the globalization process.
According to the statistics below, China Fish 2010 has received 509 exhibiting companies, 14.3% higher than 2009, Creating a new record in its history. 2157 buyers from 82 countries and regions came to the show, increased by 26.2% compared to 2009, which made another historical high. What an amazing achievement in the threat of the global financial crisis!
Exhibitors
The number of exhibitors keeps increasing in the recent years
1) Total Exhibiting Companies
2009: 445 exhibiting companies
2010: 509 exhibiting companies
Up 14.3%
Despite the global financial crisis, there are still more and more exhibitors participating in China Fish, which would not only stir up China Fish, but also the fishing tackle industry as a whole.
2) Exhibitors' Category
| | | | | | |
| --- | --- | --- | --- | --- | --- |
| Year | Manufacturer | Wholesaler | Retailer | Trading Company | Agent |
| 2009 | 65.7% | 7.7% | 2.1% | 22% | 2.5% |
| 2010 | 68.2% | 8.2% | 1.8% | 18.6% | 3.2% |
| Rate | 2.5% ↑ | 0.5% ↑ | 0.3% ↓ | 3.4%↓ | 0.7%↑ |
Among all exhibitors this year, manufacturers occupy the main part, reaching 68.2% of the total, while 18.6% of the exhibitors are trading companies, 3.2% are agents, 8.2% are wholesalers and 1.8% are retailers.
3) New Exhibitor's Companies
This year there are 94 new exhibitors who have never participated in China Fish before coming to the show, which accounts for nearly 20% of the total, which breaks the historical record of China Fish.
| | | | | |
| --- | --- | --- | --- | --- |
| Total | Manufacturer | Retailer | Trading Company | Agent |
| 94 | 71.9% | 1.7% | 21.5% | 4.9% |
Mr. Li Jiang, president of China Fish, his comments on the high percentage of new business:
"Despite the export amount of domestic fishing tackle industry in 2009 decrease by 20% compared with that of 2008, the sale volume is still higher, which indicates that overseas market now requires more high-quality products, and it also objectively demonstrates that the impact of the economic crisis in 2008 on Chinese fishing tackle industry is not that severe as was expected. Another reason is that maybe orders amount placed by overseas buyers is less than before, so Chinese manufacturers have to exhibit at more shows in order to get more business.
Moreover, Chinese fishing tackle companies have realized that export is not merely survival but searching a broader platform to promote their own brands, and it happens that they consider China Fish as a reliable and efficient platform for their brands promotion, thus this is why we got 21% new exhibitors this year."
4) International Exhibitors
32 international exhibitors from America, New Zealand, Italy, France, Indonesia, Korea, Norway, Japan, Germany, Singapore, also China Hong Kong and Taiwan came to China Fish 2010. Besides, there are a lot of international exhibitors from Australia, Japan and European countries to China Fish 2010 in their Chinese partners' name.
Of the total international exhibitors, majority are faithful supporters who have been walking together with China Fish for many years. E.g. GRUPPO DP S.N.L. from Italy has been made its attendance to China Fish show since 1995, OCEAN SMART INDUSTRIES LIMITED from Hong Kong commenced attending China Fish in 1997, and STRIKE PRO CO. /EVER GRASS INT'L CO., LTD from Taiwan has been participating in China Fish for 10 years.
Visitors
The number of buyers is mounting year by year
As the thriving of Chinese fishing tackling industry and its competitive purchasing price, as well as the quality service of China Fish organizers, the number of buyers participating in China Fish has achieved steady growth year after year, even under the financial crisis.
1. Pre-registration (The data collected till Feb.22, 2010)
| | | | |
| --- | --- | --- | --- |
| Year | Pre-registered Buyer | Company | country |
| 2009 | 1311 | 611 | 79 |
| 2010 | 1686 | 728 | 77 |
| Rate | 28.6% ↑ | 19.1% ↑ | 2.5% ↓ |
Note: Of the total 700 international companies, 207 of them are new ones which haven't participated in China Fish in the past five years.
2. Registered Buyers Total (The data collected after the show.)
| | | | |
| --- | --- | --- | --- |
| Year | Registered Buyer | Company | country |
| 2009 | 1709 | 865 | 85 |
| 2010 | 2157 | 989 | 82 |
| Rate | 26.2% ↑ | 14.3% ↑ | 3.6% ↓ |
3. Some Countries with Big Changes
Buyers (people)

Country

in 2009

in 2010

Difference

Japan

98

172↑

+ 74

USA

98

154↑

+ 56

Korea

53

95↑

+ 42

Russia

35

76↑

+ 41

Indonesia

33

20↓

- 13

Thailand

23

10 ↓

- 13
4. Buyers Category
| | | | |
| --- | --- | --- | --- |
| Category | Year 2009 | Year 2010 | Difference |
| Wholesaler | 51.2% | 50.2% ↓ | - 1% |
| Manufacturer Representative | 14.7% | 8.2% ↓ | - 6.5% |
| Import & Export Company/ Trading House | 18.1% | 24% ↑ | + 5.9% |
| Retailer | 14.9% | 15.8% ↑ | + 0.9% |
| Association/ Organization | 0.65% | 0.37% ↓ | - 0.28% |
| Agency / B2B Web | 0.35% | 1.3% ↑ | + 0.95% |
| Others | 0.15% | 0.08% ↓ | - 0.07% |
According to the analysis form, wholesaler accounts for the largest part of the international buyers, but slightly decreased by 1%.The proportion of the others was basically the same with the previous year except for the Manufacturer Representative, which undergoes a fierce decline of 6.5%, and the Import & Export Company/ Trading House surprisingly grew by 5.9%.
<![if !vml]><![endif]>

<![if !vml]><![endif]>

<![if !vml]><![endif]>

<![if !vml]><![endif]>

<![if !vml]><![endif]>

<![if !vml]><![endif]>
III China Fish 20th Anniversary Events, celebrating the unforgettable 20-year-growth
The 20th anniversary celebration banquet<![if !vml]>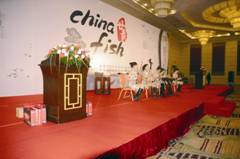 <![endif]>
On Feb 24, 2010, the 20th anniversary celebration banquet was held in the No.1 banquet hall in Jiuhua Resort & Convention Center. Thousands of Exhibitors from domestic and overseas, visitors from all over the world and all other people in the business were invited to enjoy the Chinese traditional flavored food as well as Chinese music and performances.
Mr. Li Jiang, President of China Fish, declares the reception banquet open. He described the developing process of the fishing tackle industry and extends his sincere gratitude to all buyers for their ever-lasting support.
Representatives including Mr. Jean-Claude Bel(CEO of EFTTA),Chen Liang, (President of Guangwei Group / Chairman of China Fishing Tackle Association)etc. made gracious speeches to express their congratulations to China Fish and expectation to the Chinese fishing tackle industry.
Lucky Draw
To celebrate the 20th anniversary of China Fish, the organizer launched two lucky draw activities, sponsored by the Jiangsu Holly Kudos Fishing Tackle Co. Ltd. and Dalian Ocean Fishing Tackle Co., Ltd., with an aim of rewarding both domestic and international buyers for their consistent support.
Overseas Buyers Lucky Draw
Lucky draw for international buyers is exclusively sponsored by Jiangsu Holly Kudos Fishing Tackle Co. Ltd. Prize are RMB10,000 cash, PC notebook, digital camera, MP4 and USB flash disk, etc.
| | | |
| --- | --- | --- |
| <![if !vml]><![endif]> | <![if !vml]><![endif]> | <![if !vml]><![endif]> |
Domestic Buyers Lucky Draw
Lucky draw for domestic buyers is sponsored by Dalian Ocean Fishing Tackle Co., Ltd. Prizes are versatile and functional, such as Digital Camera, MP5 Digital Player, USB Flash Disk, etc.
| | | |
| --- | --- | --- |
| <![if !vml]><![endif]> | <![if !vml]><![endif]> | <![if !vml]><![endif]> |
The lucky drawers were awarded at the celebration banquet.
China Fish 20th Years Stands
A booth of 288m2 displays the 20 years' glorious development of both Chinese fishing tackle and China Fish.
| | | |
| --- | --- | --- |
| <![if !vml]><![endif]> | <![if !vml]><![endif]> | <![if !vml]><![endif]> |
| <![if !vml]><![endif]> | <![if !vml]><![endif]> | <![if !vml]><![endif]> |
Numerous old pictures and other commemorative stuff were presented by multimedia to recall the visitors' old memories if any. Besides, aiming at rewarding the strong support of overseas buyers for many years, China Fish opened up a buyers' wall covered with old photos in the past twenty years. "We hope they can find their names accidentally and get a surprise." the organizer said.
EFTTEX Lounge
<![if !vml]>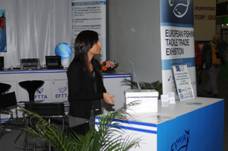 <![endif]>A special lounge of 54 sqm equipped with PCs, printers and a comfortable seating area lay in E085 booth in the name of EFTTA, which was designed to help western buyers have a more efficient and comfortable visit to China Fish. Western visitors including non-EFTTA members and other western trade associations to China Fish 2010 had access to a new purpose-built place at the show complete with free internet connection, refreshments and a free interpreter for short meetings.
Nomination & Awarding
A nomination about "the most influential Individuals &Companies during the past two decades" was launched on the website of China Fish via voting, and the final winners was invited to China Fish reception banquet for award ceremony
IV. New Product Showcase, Cradle of Innovation
Best Products Showcase History
| | | | | | | |
| --- | --- | --- | --- | --- | --- | --- |
| Subject | 2010 | 2009 | 2008 | 2007 | 2006 | 2005 |
| Products | 497 | 489 | 443 | 420 | 390 | 153 |
| Exhibiting Companies | 83 | 85 | 66 | 82 | 65 | 22 |
According to the figure above, the participants of the best product show are increasing year after year.
This year, regarding to exhibitors, with a purpose of encouraging Chinese fishing tackle enterprises to enhance the independent R & D capability, and attract more and more Chinese companies to participate in new product showcase, the Best Products Awards extended from 15 to 45 during China Fish 2010, which means another 30 exhibiting companies got top two honor certificates besides the conventional 15 winners.
The Winners of the Best Product Showcase
<![if !vml]><![endif]>

<![if !vml]><![endif]>

<![if !vml]><![endif]>

Rod

Weihai CRONY Fishing Tackle Co., Ltd.

Reel

Paladin China Co., Ltd.

Lure

Botao Sports Ltd.

<![if !vml]><![endif]>

<![if !vml]><![endif]>

<![if !vml]><![endif]>

Bait

Hubei Old Ghost Bait Co., Ltd.

Line

Weihai Sensa Company Limited.

Float

Weihai Enjie Fishing Tackle Co., Ltd.

<![if !vml]><![endif]>

<![if !vml]><![endif]>

<![if !vml]><![endif]>

Net

Hangzhou Hongjian Fishing Tackle Co., Ltd.

Bag

LongYuan Tourist Goods Co., Ltd.

Clothing

Fuzhou Riversuny Waterproof Garments & Bag Mfg., Ltd.

<![if !vml]><![endif]>

<![if !vml]><![endif]>

<![if !vml]><![endif]>

Electronics

Yachting Electronic Co., Ltd.

Fly Fishing Product

Weihai Mingyang Fishing Tackle Co., Ltd.

Fishing Accessory

AFB Bti-sports Yangzhou Guotai Co., Ltd.

<![if !vml]><![endif]>

<![if !vml]><![endif]>

Tackle Accessory

Guangzhou Liangyue Lighting Lamps Co., Ltd.

Outdoor Equipment

Arcadia Camp&Outdoor Products Co., Ltd.
V.IPR office, sincerely guarding for Intellectual Property
China Fish has set up its Intellectual Property Right Office since 2004. The establishment of Intellectual Property Rights Offices, in the first place, manifested that the organizers as well as the Association has attached great importance to IPR protection. Second, the IPR office has exerted great on-site support to the exhibition in terms of intellectual property services and adjustment. Third, the IPR office laid solid foundation for further development of intellectual property consultancy services. During the exhibition, IPR office received a total of 25 intellectual property cases, of which 9 were related to foreign enterprises, 14 concerning complainants.
IPR Cases of China Fish 2010
| | | | | |
| --- | --- | --- | --- | --- |
| Year | Total Cases | Consulting Cases | Complaining Cases | Foreign Enterprises Involved |
| 2010 | 25 | 11 | 14 | 9 |
| 2009 | 15 | 8 | 7 | 6 |
VI.Voices from customers
The flourishing of China Fish to a large extend comes from the unswerving support and trust from both exhibitors and visitors. Here are the voices from them:
"Actually, China Fish has become a meeting point for the world fishing tackle industry. Many contacts we got from the show and China Fish helped us a lot to be what we are." said Mr. Nicola Dagnino, Sales Director of Gruppo D.P.
"It's first time for me to exhibiting but I have been to China Fish for 14 years as visitor. China Fish differently brings the world together in terms of the fishing tackle supplier of the world and enables people to see your products." Said Mr. Marty Johanson, Managing Director of Composite Developments
Mr. Dieter Willenbruch from Fishman's Partner, said, "Mr. Li Jiang, that was the start of the China Fish but it was also the start of China to replace Korea at No. 1 production country for many products – but certainly also for fishing tackle. And there was and is no better place in China to see the development and the growth of the fishing tackle products clearer than here on the China Fish."
Rodolphe Jacques from VMC Peche said, "Frankly speaking I was disappointed by the place (far from city, poor hotel, no heating, etc…).The company we used for the booth was not as good as expected (they finished the booth very late, so I did not have time to place my products before the show), the materials used were good but very dirty and they forgot to place some displays."
"Among the Best Products Showcase of China Fish 2010, we can see a lot of China originated top innovative products. This is the perfect example that Chinese manufactures are putting much more effort into their own products with research and design." said Mr. Wu Dong, vice president of Holly Kudos Fishing Tackle Co.,
"The fair was satisfactory but the hotel and location was terrible. If is there next year a vast majority of people I spoke to were very unhappy and will not go back." Said Kevin Green from Allied Outdoors Ltd
Among 200 buyers who have not been visiting China Fish in the past 5 years, most of them are satisfied with the show.
David Tander Norway said ,"This is my first time here. It is very good for me. I find many good suppliers. It is a big change for me to be here, as, before, I just source from Alibaba and "Made in China". China Fish is much better. It is very important for my business."
VII. Long-term Development: Sustainability
With 20th experience, China Fish has established excellent reputation for fishing tackle trade show. Nonetheless, to become a must-attend show and achieve sustainability, there is still a long way to go.
As Mr. Li Jiang said:
"To ensure of a "must attend" show, we need to strive our efforts in the following aspects:
1) Encourage Chinese enterprises to present more high quality new products each year and care about the IPR cases;
2) Put service as the top priority and try to satisfy both exhibitors and visitors;
3) Do more promotion to attract high-quality visitors and exhibitors;
4) Strictly control the reasonable proportion of the visitors to exhibitors with a purpose of protecting exhibitors' benefits;
5) Provide after show services by offering a good way for Chinese enterprises to promote their products and visitors to know about China fishing industry through our internal "China Manufacturers" magazine."
VIII.Prospects of China Fish 2011 and CGC 2010
About China Fish 2011
For China Fish 2011, the time has been fixed as Feb 17-19, 2011. However, as for the venue, since this year we receive lots of complaints for Jiuhua International Exhibition Center, so the organizer are considering to move back to China International Exhibition Center as China Fish 2009, but the final decision have not been made. They are waiting the feedback of our questionnaire from exhibitors and professional visitors.
Mr. Li Jiang told us another thing for China Fish 2011 is that we decide to open up a separated hall or zone for exhibitors who are committed to domestic markets in response to the market changes.
About CGC 2010
The 3rd CGC EXPO will be held in October, 2010, in Weihai, Shandong province, keeping the theme "4 low costs"-low price exhibits, low cost for purchasing, low cost for exhibiting, and low cost for hosting.
CONTACT CHINA FISH
Mr. Li Jiang, President
E-mail: lijiang@chinafish.cn
Tel: +86-10-5820 3101/02/03
Fax: +86-10-5820 3100