BEIJING CITY TRANSPORTATION
Touring Beijing with a tour group is good for the first time tourist. But if you really want to travel independently, you should break off from the pack and do some touring on your own. This page provides some tips and insight on how to get about Beijing and some spots in the suburban area.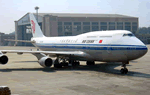 Travel by Air
The Beijing Capital International Airport is undoubtedly China's top air hub, with 98 international, 21 regional and 757 domestic air routes linking the capital with 54 cities (excluding those in Taiwan province)in 39 countries. More than 40 foreign airlines have set up booking offices in Beijing.
Air Ticket Booking
The CAAC booking office is located in the China Aviation Building at 15 West Chang'an Avenue near Xidan. Most international and domestic airlines now have ticket and booking offices in or near major hotels. Many travel agencies offer fast, reliable booking services.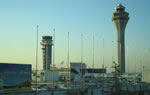 Capital Airport
The Capital Airport, for both international and domestic flights, is located 27 kilometers (16.8miles) north of the city center. The taxi fare is approximately 80 yuan from town. Shuttle buses run every 30 minutes from 05:30 to 19:00 between the China Aviation Building and the airport. Shuttle buses run each hour from both the China Art Gallery and Zhong Guan Cun to the airport. The bus fare is 16 yuan.
For the Capital Airport Information Desk, call 64541100(24-hour service). Travel time to the airport on the new Airport Expressway is about 35 minutes.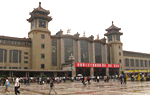 Travel by Train
Taking the train in China is an experience not to be missed. You can meet people from all over the country, and the views out of the traim windows are unavailable in any otyer form of travel.
The city has five railway stations, with lines running to almost all provincial capitals, and to all China's major cities. There are four kinds of seats available-soft berths, hard berths, soft seats and hard seats. If you are headed for any destination, which has a travel time of over 6 hours, you should definitely try to get a soft seat car. Any trip over 12 hours, a hard or soft sleeper is a must. Soft sleepers are more comfortable, but offer a more isolated (some would say private) train experience. Most over-night trains have dining cars. And if you really can't find a seat or bunk anywhere, you can usually pay a small amount to spend the night in the dining car. It is a good idea to bring your own food. Instant noodles, fruit and sausages are what most people bring. Hot water is available on board.
Beijing's West Railway Station is Asia's largest rail terminal and is very modern and well-equipped.
Train Ticket Booking
It is more convenient to have the hotel travel service or front desk buy you a train ticket (for a small service charge ) as it can sometimes be confusing and time-consuming to book by yourself. Beijing Railway Station and Beijing West Railway Station have a special counter selling tickets to foreigners and overseas Chinese. Tickets can be purchased up to six days in advance. It is necessary to show your passport ID when booking or buying tickets.
Taxis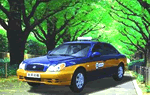 The most convenient way to get around Beijing is by taxi. There are tens of thousands of them running around the city at all times of the day. There are basically four different price categories; 1.00 Yuan /km. 1.20 Yuan/km, 1.60 Yuan/km and 2.00 Yuan/km, how-ever, recently the taxi industry has gone through a price restructuring, and the 1.00 Yuan/km taxis will soon be done away with. Except for the "miandi," or "bread taxi," (the 1.00 Yuan/km kind) so-called because they look like little loaves of bread, the fares all start at 10 Yuan and start increasing after 5 km, so if you are going only a short distance, the price is the same no matter which type of taxi you take. The "Miandi"s start at 10 Yuan and increase after 10 km. The "Miandi"s cause heavy pollution to the air and they will be discarded by September. If you can speak or are learning Chinese, chatting with cabbies is a great way to pick up Beijing slang. If you can't speak Chinese, it is best to bring along the address in Chinese of the place you want to go, as most drivers' English is limited to "hello" and "ok". There are also lots of drivers running around in private cars who accept money for rides. However, it is inadvisable to take these cars, because they are a) illegal and b) not always trustworthy, but sometimes if there are no taxis available, this is the only option. They abide by the same price scale as "Miandi"'s.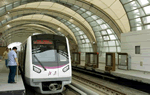 Subway
Beijing was the first city in China to have a subway. Although often crowded, the subway is often the fastest way to get around the central city area. There are four subway lines currently, with several more under construction. Subway tickets are 2 Yuan.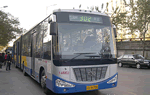 Public buses
Besides bicycles, public buses are the cheapest way to get around Beijing. The trick is to find the right line to get where you want to go often you have to change buses several times, which is time-consuming and confusing. The public bus system in Beijing is very good. You can get almost anywhere by bus. But the downside is that they are really, really crowded and uncomfortable, also, take care of your wallet when you get on the bus. Pickpockets often try to get your stuff just as you are getting on. There are two types of buses: the ancient, two-segment behe-moths, and the modern, air-conditioned buses which are a blessing in the summer.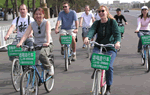 Bikes
If you are in Beijing for an extended period of time, you may want to consider buying a bike. Biking around Beijing is a fun way to get to know the city. Also, there are rarely bike jams (though they have been known to occur). You haven't really experienced Beijing until you have ridden alongside a three-wheeled platform bike loaded sky high with chunks of Styrofoam, or had a near miss with a guy in a three-piece suit pedaling furiously to get to work. Amazingly enough, nobody wears bike helmets, except for the Domino's Pizza guy on his way to a delivery! There are all different price ranges for bikes. Cheap Chinese-made bikes (which look like c.1950 Schwinns) go for around US$30, but you also can get American mountain bikes like cannon dales or Diamondbacks for several hundred US Dollars. Mountain bikes are cool, but actually unnecessary as Beijing is an extremely flat city.
Be warned: if you buy an expensive bike, be sure and buy at least two of the thickest you can find. The best policy is to never leave your bike unattended, especially at night. You can buy bike at many stores.
Bicycles can be rented from large repair shops as well as from hotels. Master Wang, in front of the SCITECH Plaza, is the largest rental office downtown.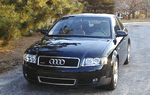 Cars
Cars in Beijing are very expensive. If you buy a foreign import, you have to pay about 100-150% import tax on the car so the price is basically double of that abroad. Joint-ventures like Volkswagen. Audi are also more expensive than they are at overseas. Chinese-made vehicles are cheaper, but the quality is not exceptionally good. The best plan is to rent a car.
Rickshaws
When you hear the word rickshaw, you may think of the two-wheeled carts pulled around by Chinese guys with long braids that you see in old movies. But today, rickshaws are actually three-wheeled bicycles often driven by old, retired men. There are fleets of them circling around the Tian'anmen square area, and they are always willing to take passengers. It is nice to take a ride around the square in the evening, but if you do, make sure you come to a price agreement first. There are many con-men out there, and you have to be firm and clear about your price. There is no set fee for a ride, so you just have to decide how much you are willing to spend, and work with that, they usually ask for about 30 to 50 Yuan.