SHOPPING IN BEIJING
Shopping in Beijing is becoming more convenient by the day. Every year new shopping centers and plazas are sprouting up all over the capital. Just a few years ago there were only a few department stores and small bazaars, but now there are many superstores, mega-malls and markets where you can buy just about anything you need. Recently, the first IKEA just opened in the north of the city. There is a huge PRICE Smart which is a discount wholesale foodstuffs market for cardholders only. The Silk Market at Xiushui Jie and the free market at Sanlitun are also favorites among tourists, foreigners and locals alike.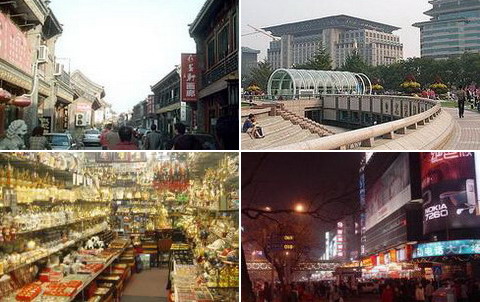 There are various places to go for shopping, depending on what buyers expect and the prices they are prepared to pay.
Wangfujing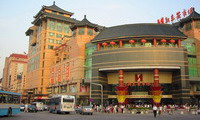 Wangfujing intersects with East Chang'an Avenue. It has a history of more than 100 years. The street, which is less than one kilometer long, is lined with shops. The best-known shop is the Beijing Department Store. To the north of the department Store is the One World Department Store, hosting a collection of Chinese and foreign name brands and fine quality products.La Fayette presents French features, namely fashions and name brands. The newly-opened Sun Dong'an Market is the largest supermarket in Beijing. It covers a business floor space of 100,000 aquare meters and sells more than 200,000 kinds of goods. The Oriental Plaza, which is considered another miracle in Chinese architectural history, is scheduled for comp;etion soon. It stands just by the south entrance of Wangfujing.
Qianmen
Qianmen street was a commercial center of Beijing more than 500 years ago. Its old shops and small stalls are preferred by Beijingers. Not far from Tian'anmen Square is Xidan, which is regarded as the second Wangfujing. The street is lined with shopping centers, food bazaars and garment markets.
Silver Street
Silver street is in the Dongdan Beidajie. It is where all the franchised foreign name-brand shops are concentrated.
Jianguomenwai Dajie is famous for its colorful metropolitan scenes. The street is lined with star-rated hotels, office buildings, fancy restaurants, beauty salons and shopping centers. The well-known shopping centers are Friendship Store, SCITECH Plaza, Guiyou Department store and the China World Shopping Mall.
The Silk Market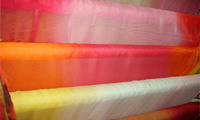 Despite its name, the Silk Market has much more than just silk. The silk products here are cheap, and therefore popular, but there are also a lot of cashmere garments, down jackets, leather goods, shoes, hats, watches and some handicrafts and trinkets. The Silk Market basically consists of a long, narrow street (Xiushuijie) lined with dozens of stalls. One of the main things about the Silk Market is the fact that none of the prices are set. This can work for or against you. It all depends on your bargaining skills. If you on your bargaining skills. If you are a proficient (i.e.stubborn) bargainer, then you can get great deals on all kinds of clothing, but if you are soft -hearted and don't like confrontation, then you may get taken for a ride. It is ofen helpful to bring along a Chinese friend who can help you bargain. The way to do it is, look around at all of the stuff and point out to your friend which item you like, without letting the seller know. Then let the Chinese person go back and bargain for you. Of cours not all Chinese people are good bargainers, but at least if they go, the starting price is the same, but the lowest the seller will go will be lower for the Chinese person.
If you are a tall person (6' and up ) the Silk Market is the best place for you to buy clothes and shoes. Usually the shopping plazas and super-stores do not have really large sizes. If you are size 12 shoe size or larger, then the only place to really go is to the Silk Market.
You will notice quite a few famous name-brand items there, and you may wonder how a Timberland down jacket can be sold for US$20 or $30. The answer is not clear. Sometimes the goods are counterfeit, but more often the merchant has a relative in a clothing factory who can get excess products or slightly imperfect products for super cheap prices. At least that is one theory. No matter what the case may be, it is a place for bargain shopping.
The silk and cashmere goods are also much cheaper than they would be in other stores or in other countries. These items make great gifts for friends back home, especially the silk Mickey Mouse boxer shorts which you can't get away from. Most of the sellers speak a little English, at least they know how to say "you say how much!", "I give you good price." And of course numbers are their specialty. There is also a large selection of fake Rolex, Omega and other wristwatches, rivaled only by the street hawkers of New York City.
Note: it is very crowded in the alleyway, and people will be constantly brushing up against you. It is a good idea to keep a close eye on your bag or wallet while you are in there. If you are wearing a backpack, put it on backwards so the pack is in front of you. If you don't, you may find that there is a slit in the bottom of your pack and all the good stuff is gone!
Sanlitun Market
Besides being famous for its Bar street, Sanlitun is also well-known for its free market. During the daytime, the side of the street across from all of the bars is lined with stalls selling mostly clothing. The good thing about this market as compared to department stores is that you can bargain for prices, and they have larger sizes.
Tourism-administration-designated-stores
Century-old stores, like those in Beijing's hutongs(alleys) and siheyuan (courtyards), have become part of the city's history. Their fame and location in some of the most bustling downtown areas keep them busy but, at the same time, the stores are small and offer a relatively poor shopping environment. And competition is rising from the rubble of modern construction. In recent years, most traditional stores have made changes to keep up with their rivals, including renovating their rivals, including renovating their facades and interior decorations, and upagrading services. Shopping in some of the best of the stores can be a unique Chinese experience.
Antiques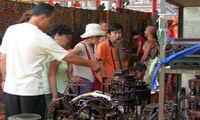 A good place to find a wide selection of antiques is at Liulichang. Liulichang is a street in Xuanwumen, and many of the stores are quite old. This area has everything from scrolls, to jade articles to decadesold cigarette ad posters. There are definitely treasures to be found here,but it is hard to tell genuine antiques from dirty fakes. Real antiques are supposed to bear a red official seal that proves their authenticity, but sometimes real ones don't have it and fake ones do. The best attitude to have is: if you like it and you can bargain down to a price you can accept, just go for it. Small jade articles and silver trinkets make great presents for people at home and they are easy to take on the plane.
Another large antiques market is the Antiques City at Panjiayuan. This is a multi-story building which is full of antiques and general kitsch. The same rules apply here as in Liulichang: if you like it , get it. Don't worry if it is fake or not. Many of the things are not real antiques, but on the other hand, recently a 50,000-year-old fossil was confiscated from one of the sellers there. The fossil was on sale for about US$150, so you never know.
Beijing Curio City, gathering more than 250 curio shops under one roof, is China's largest trade center for antiques and fold art works. Many of the dealers are themselves connoisseurs and curio collectors. Antiques that date before 1795 are forbidden for sale or export. Those dated between 1796 and 1949* should bear a small red seal and a Certificate for Relics Export from the Beijing Cultural Relics Bureau(BCRB), to allow them to be taken out of Chin. The seal also proves the genuineness of the items. A word of caution: keep receipts which should indicate the name and age of the antiques if these items are bought in BCRB designated stores.
Porcelain
Porcelain, the original China, is still a major industry, producing dinner services, figurines and reproductions of antique vases, teapots and the like. The finest porcelain in the world can be easily purchased in China.
Cloisonne
Cloisonne(enamel formed in patterns of copper wire) is an art form developed in the 15th century, and now used to decorate vases, bowls, lamps, jewelry and ornaments.
Lacquerware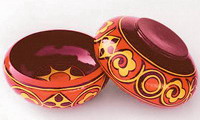 Lacquerware consists of up to 500 coats of lacquer applied to a copper base and carved into designs. The colors are red, green, yellow and black, while favorite patterns show flowers, birds, landscapes and figures. Lacquer is used for vases, plates, bowls and figures. Lacquer is used for vases, plates, bowls and screens. Some lacquerware is inlaid with gold, mother-of -pearl or jade, to decorate folding screens and furniture which are genuine works of art.
Silk
Silk, which has brought fame to China, can be readily found in a dazzling array of colors, patterns and textures. While large State-owned stores like the Beijing Yuanlong Silk Corporation, Ltd. Can be trusted for quality and offer ready-made clothes as well as a complete array of fabric, private markets like Xiushui and Yabalu sell all kinds of silk clothing from shirts, underwear and trousers, to pajamas and bedspreads at negotiable brices. Most vendors at the markets are self-employed and speak some English. All the products are marked in Western sizes, but sizes are often deceiving, try on for size. Chinese long gowns are considered the most elegant garment most suitable for women's figures. Silk gowns can be a truly longlasting and useful item to purchase in China for yourself or as gifts for those special people back home.
Jade
Jade is regarded by the Chinese as a stone descended from heaven. They value its hard, cool texture and translucent colors. It is extremely difficult to carve but China's craftsmen create incredibly intricate ornaments and jewelry from jade.
Painting &Calligraphy Serolls
Painting and callgraphy works are found in hundreds of stores. They vary in age, quality and price with the finest being true works of art. The brushes, ink slabs, ink and paper that were the scholars traditional tools can be found in most antique shops. One of the best sources is the China Book Store, off the courtyard-parking in East Liulichang.
Handicraft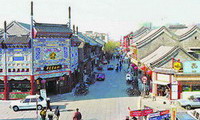 Clay figurines and animals can be traced back to 1840s, and are still one of the most unique crafts in North China.
Dough modeling is another traditional folk art handed down from ancient times. Kneaded in half-cooked glutinous rice flour, dough figures, flowers and birds are popular small toys and exhibits in Beijing.
Toy Monkeys are loved by children. The monkey is a near sacred animal in old Chinese folk tales. These toy monkeys are meticulously made and shown engaged in a variety of activities.
Papercutting is one of the most popular handicrafts in Beijing. There is a wider variety of papercutting patterns available than you can imagine.
Kites can be used as ornaments and toys. One of China's favorite past times is flying kites, especially in Beijing where there is usually plenty of wind around to send them soaring into the sky. Available in many art and craft stores, kites are among the best Chinese presents to friends back home.
Snuff bottles, with paintings inside, represent a popular art from the Qing Dynasty and make excellent small gifts. You and your friends will marvel for years on how the artist paints such intricate drawings on the inside of these very small bottles.
Bone products, made from oxen and camel bones, include knives, forks, spoons, bracelets and necklaces.
Embroidery & drawn work appear on table cloths, napkins, sheets and handkerchiefs, all of which are excellent buys, the Beijing Yuanlong Silk Corporation, Ltd. has a wide selection.
Books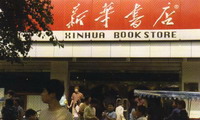 Every year 20,000 book titles and 1,300 periodicals are published in Beijing, home of the Commercial Press and other well-known publishing houses. They make up a small part of the stock of the city's major book shops, where you can find beautiful art books, translations of Chinese classics and textbooks on all known subjects. Prices are reasonable, particularly in the Foreign Languages Bookstores.
The Beijing Foreign Languages Bookstore and Beijing Xinhua Bookstore (with 137 branches around town) are major book sellers. The China Book Store in Liulichang binds and repairs all kinds of books and periodicals as well as selling them. Another good place for books is Haidian book street near Beijing University.